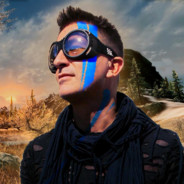 WarpaintSaint
Why MarineVerse?
I've been in VR since 2014 (DK1, DK2, PSVR, Quest 2) and learned to sail at the Royal St. Lawrence Yacht Club near Montreal. It's a nice fit. 🥂
Sailing experience:
I'm a journalist by trade. I spent 6 yrs as an anchor/reporter and then 10+ yrs as director of marketing of an Internet marketing company, growing it from 4 to 30+. Now I have my own production company. This clearly isn't "sailing" experience. But it may explain why I have so little? 😜
MarineVerse Cup stats
#1 in Toronto
#4 in Ontario
#42 in Americas
#70 in the World.
Sailing inYacht Pro & Dinghy Pro & Waszp Pro & Yacht CA & Yacht Zone 3 & Dinghy Zone 3 & Waszp Zone 3 & Dinghy CA & Opti Pro leagues.